ALBERT PUJOLS ROOKIE CARD GIVEAWAY
TO ENTER THE GIVEAWAY, YOU MUST SUBSCRIBE TO THE FREE ALL STAR CARDS INC NEWSLETTER BY FILLING OUT THE FORM BELOW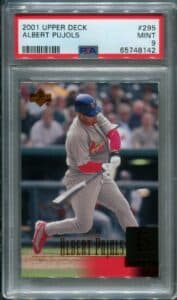 TERMS & CONDITIONS: ALL ENTRANTS MUST AGREE TO THE TERMS & CONDITIONS
How To Enter: NO PURCHASE IS NECESSARY TO ENTER. YOUR CHANCES OF WINNING DO NOT INCREASE WITH A PURCHASE. To enter the giveaway, you must subscribe to the free All Star Cards Inc Email Newsletter. You must submit your legal name, as well as a valid email address and phone number that belong to you. Fill out your information in the Newsletter Sign Up Form Box, then click "Submit." Signing up for The All Star Cards Inc Newsletter within the entry period is the only way to enter the giveaway. Each individual can only enter the giveaway once, and filling out the form more than once does not count as an additional entry.
Entry Period: All individuals who subscribe to The All Star Cards Inc Newsletter, or are already subscribed, AND agree to The Terms & Conditions of this giveaway between 11/1/22-12/31/22 will be automatically entered to win the Albert Pujols Rookie Card. Entries made after this time period will not be eligible. A winner will be randomly selected and notified on January, 2nd 2023.
About Our Newsletter: Signing up for the All Star Cards Inc Newsletter means that you will receive emails from All Star Cards Inc letting you know about new cards for sale, exclusive discounts & promotions, as well as other exciting hobby and company news. You can unsubscribe to the newsletter at any time by replying to the email and letting us know, or by clicking the Unsubscribe button located at the bottom of each email we send out.
Eligibility: You must be 18 years of age or older to enter this giveaway. You are not eligible if you are younger than 18. You must also live in the United States and have a valid United States home address. Void where prohibited by law
Prize: The finalized winner will receive an authentic 2001 Upper Deck #295 Albert Pujols Rookie Baseball Card with a MINT PSA 9 grade. The item listed as the prize will not be eligible for returns, and you cannot request store credit or cash in exchange for the card. There is only one winner and that winner will receive the 2001 Upper Deck Albert Pujols card. The item will be shipped to the winner via USPS Priority Mail, and a Tracking # will be provided.
Privacy: The All Star Cards Inc Email Newsletter will be sent to the email address you provide us with. In addition, if you are selected as the winner, we will call the phone number and email the email address you provided us with to inform you that you have won. The email address and phone number that you provide us with will not be shared or made public. If you win the contest, the shipping address that you provide us with will not be shared or made public. However, we will publicly announce the first name, city, and state of the winner with our social media followers and newsletter subscribers.
Selection And Notification Of The Winner: We will randomly select a winner on December 31, 2022. We do not have control over who wins, and there is no action you can take that will guarantee that you win. The odds of winning is dependent upon the number of eligible entries received. The giveaway winner will be called on the day of January 2nd, 2023 to inform them that they have won and to request their shipping address so that the card can be mailed to them. Within 48 hours of when this call is made, we must receive a response or else a new winner will be selected. There are no exceptions. If you win, you must provide us with a valid United States address of where you reside, or else you will not receive the card. Once a winner is finalized, we will announce the name of the winner in the next issue of the All Star Cards Inc Newsletter. Once the Albert Pujols card has been shipped, we will notify the winner by email and provide them with a tracking number.
Agreement To Rules: To participate in the Albert Pujols Rookie Card Giveaway, you must agree to and abide by the rules. You must also agree to accept the decision of the individual that wins the card as final and binding. The winner is randomly selected and we do not have control over who wins. We have the right to refuse, withdraw, or disqualify entries at our sole discretion. Entrants waive all rights to punitive, incidental, or consequential damages, and they waive all rights to have damages multiplied or increased.